INVEST. INCUBATE. ACCELERATE.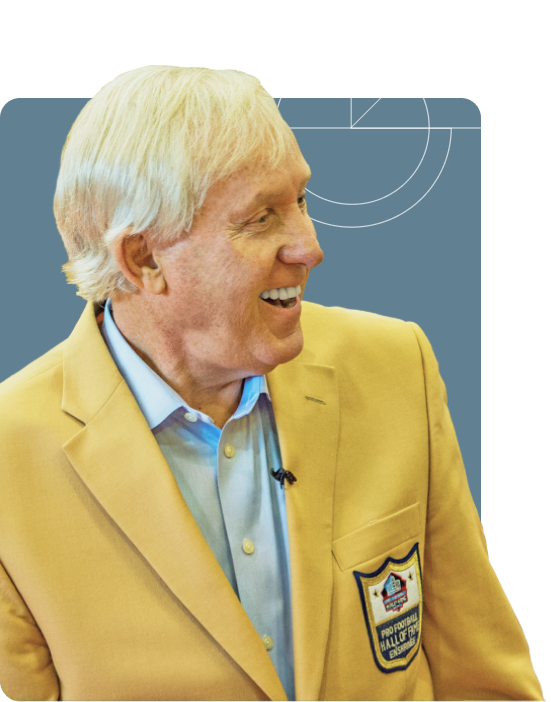 A Proven Playbook for Success.
When your football team is down by seven points and scores a late touchdown, you are faced with a game-defining choice. Will you settle for the safe bet and tie the game by kicking the extra point? Or will you go for the win with a two-point conversion?
At Tarkenton Private Capital, we build relationships with individuals and companies who are willing to take a leap of faith and say, "Let's go for two!" With our expertise and resources at your side, push past your limits, test a bold new approach, and achieve unprecedented success.
So why settle for a tie when you can accomplish greatness? Partner with Tarkenton Private Capital and let's make your bold dreams a reality.
Fran Tarkenton, Founder & CEO
Here's
how we
make it
happen.
Financial Partnership
text goes here...
Financial Partnership
As a financial partner, we provide capital investment to fuel your growth and take your business to new heights. Whether you are a startup looking to scale or an established company aiming to expand, we tailor an investment approach to meet your unique needs.

Value-Added Services
We go beyond just providing capital. We offer a wide range of value-added services to support your business growth. Our team of experts brings a wealth of knowledge and experience in areas such as strategic planning, marketing, operations, and technology. We work hand-in-hand with you to provide insights and guidance to navigate challenges and seize opportunities.

Incubation Support
Turning exceptional ideas into successful products or services requires more than just financial backing. That's why we offer incubation support to nurture and accelerate the development of your ventures. From product ideation and prototype development to market testing and launch strategies, our team provides the resources and expertise you need to bring your vision to life.

Extensive Network
With decades of experience in the business world, we have an extensive network of industry leaders, entrepreneurs, and investors. When you partner with Tarkenton Private Capital, you gain access to our network, opening doors to potential collaborators, customers, and strategic partnerships. Use our connections to expand your reach, gain market insights, and unlock new growth opportunities.

Commitment to Excellence
At Tarkenton Private Capital, excellence is at the core of everything we do. We have a rigorous evaluation process to identify exceptional ventures with the potential to make a lasting impact. TPC brings a wealth of expertise to ensure we make the right investment decisions and provide the highest level of support to our portfolio companies.

Partner with Tarkenton Private Capital and unlock your potential for success. Let's turn your venture into a game-changing reality.
Contact us today to explore how Tarkenton Private Capital can accelerate your journey to success.